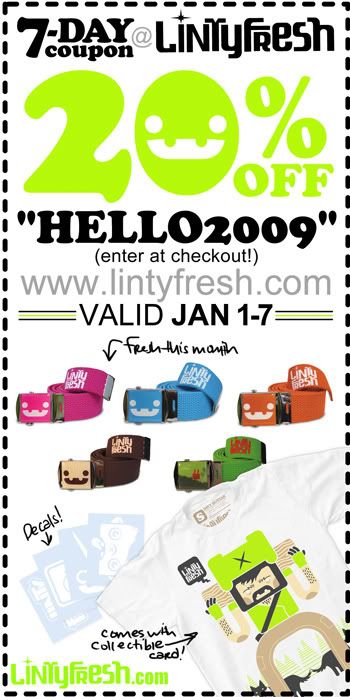 And what better way to start the year than with a 20% off coupon?! This month I'm releasing 3 new belt designs (Fuschia Smile, Orange Smile, Aqua Smile) as well as a huge restock of a bunch of older styles including Busjacked, Freshmen, Cut Up as well as some even older ones, Woodie and Fantastic Rabbit, from early last year.
Get em while they last, because they always go really quick!
Also new to the LF family is
Davy Bunyan
. This tee is especially unique because it's the first that will ship with a collector's card. The card features a portion of the design on one side and the poem on the other. And unlike with the other tees, the poem will not appear on the website, but only on the cards. Just trying to make things a bit more special for everyone. Alot goes into these creations, ya know?
Finally, I'm pleased to announce that (as some of you already guessed)
window decals are now available in the shop! This first release of vinyl decals comes in 9 different designs, all of them being roughtly 3.5" x 3". I've had one of these on my car for the last few months and it's held up fantastic and looks great. Stoked to finally get these into everyone else's hands too!

Enjoy the new goodies, and don't forget "Hello2009" at checkout!
posted by Mr. Linty @ 12:00 AM,


2 Comments:
At 7:08 AM, said...

At 12:23 PM, Eric Terry said...